20 best Texan dental care blogs (that will make you smile)
It seems like every dental professional has a blog nowadays, but not every dental care blog makes you smile and informs you at the same time. These are some of the resources we know our readers will enjoy.
All articles about dental temp agencies >>
Cost of dental temp agencies revealed >>
Not all blogs are created equal.
A good blog has the power to ignite emotion. A clean website that features a modern design and inviting copy is like a breath of fresh air. In fact, a great website or blog can literally put a smile on your face.
We searched Texas for the best dental care blogs that are sure to make you grin. Here are our top picks.
Right away I was greeted with a picture of a smiling donkey with this title:
That alone made me smile. Naturally, I clicked on the link out of sheer curiosity. I found a fun article that examined some of the most outrageous historical remedies for toothache relief. My favorite was number four—trim your fingernails on a Friday and your toothache will be gone for a week. That post was entertaining; others are wholly useful. You're sure to appreciate the practical tips and fascinating information on the New Smiles blog.
Noteworthy post: How bad does a root canal hurt?
One thing you will notice in the dental industry is that online content is often dated or not very applicable to today's readers. Park Haven Dental features a blog with relevant content people can use:
Landing on such a gold mine of dental care practices is enough to make any oral hygiene enthusiast grin. In fact, the smile on the girl in the image is downright contagious.
Park Haven Dental has done a fabulous job keeping up with the times and being informative.
Noteworthy post: Nine tips for oral health care that's Earth friendly
Curious about the outcomes of the dentist's previous procedures? The Scott Dooley Dentistry website offers an entire section of before and after images on their blog.
Content from the blog at the Scott Dooley website features a strong emphasis on the overall health concerns of dental patients. Different topics covered include how to calm an anxious dental patient, sleep apnea treatment and the impact of oral hygiene on overall health and well-being.
Noteworthy post: The importance of replacing lost teeth
"Changing Lives. One Smile at a Time." This is the slogan for Clear Lake Dental Care, and it establishes their commitment to making a lasting impression on each patient.

The content on the Clear Lake Dental Care website is geared toward providing education about their services, which include many cosmetic dental procedures.
Noteworthy post: Learn about dental implants from patients who have them
If the slideshow of brilliant smiles in the blog's header doesn't light up your face, keep scrolling down to check out some of the outstanding content featured on Katy Family Dentists' blog.
Some of the unique blog posts include shoutouts to other offices with pictures of goodies sent over, birthday wishes to their dentists and behind-the-scenes articles about their staff both in the office and at outside get-togethers. They show us the human side of a dental office, but they don't neglect their patients. The blog features articles that cover some of the more common questions and concerns of dental patients.
Noteworthy post: What causes morning breath?
With the word "smile" actually in the name of the dental practice and a giant smile as part of their logo, it would be hard not to smile when checking out the Danna Smile blog.
Dedicated to cosmetic and family dentistry, the Danna Smile practice aims to deliver beautiful results. The attractive design of their website compliments their approach. Take a look at the section dedicated to client testimonials and another gallery of—you guessed it—smiles from actual patients. There's also a wealth of useful information on their site about specific dental treatments, how those procedures work and why they are important.
Noteworthy post: Digital imaging
One word: color. That is what stands out immediately when you arrive at the Viva Dental blog. The combination of bright orange and neon green paired with an attractive, modern design made me smile right away. It's marketing at its finest!
For a personal touch, one of the dentists is pictured in the sidebar. The content featured on their blog offers great advice, addressing many of the topics dental patients research (such as whether a person needs a bridge or on implant and common questions about Invisalign).
Noteworthy post: Protecting little smiles during the holidays
Presenting a sleek and modern website, Nautical Dental greets their blog visitors with an attractive sailboat design paired with an elegant font. The high-resolution images throughout the site please the eye and pique the reader's interest. Pictures of the staff at work and images of the office give the impression that Nautical Dental is a friendly place to be.

Noteworthy post: Your dental story
Sleek navigation on the homepage is enough to make anyone happy, with links to take dental patients straight to the information they need most. FAQ sections include:
Empathy is a great way to connect with the site's audience. Continuing with the theme of emotion, a video on the homepage features actual patients sharing their emotional experiences with the dental staff. Their touching stories will definitely pull at the heartstrings.
Noteworthy post: You don't have to fear the dentist
Allheart Dental Implants and Orthodontics practice has a beautiful and well-appointed website that runs smoothly with a contemporary, responsive design. Sometimes easy does it, and this website is a perfect example of a simple yet sleek design that's easy to navigate. It doesn't make you feel overwhelmed. The slideshow on the home page alerts visitors to the topic highlights they care about most.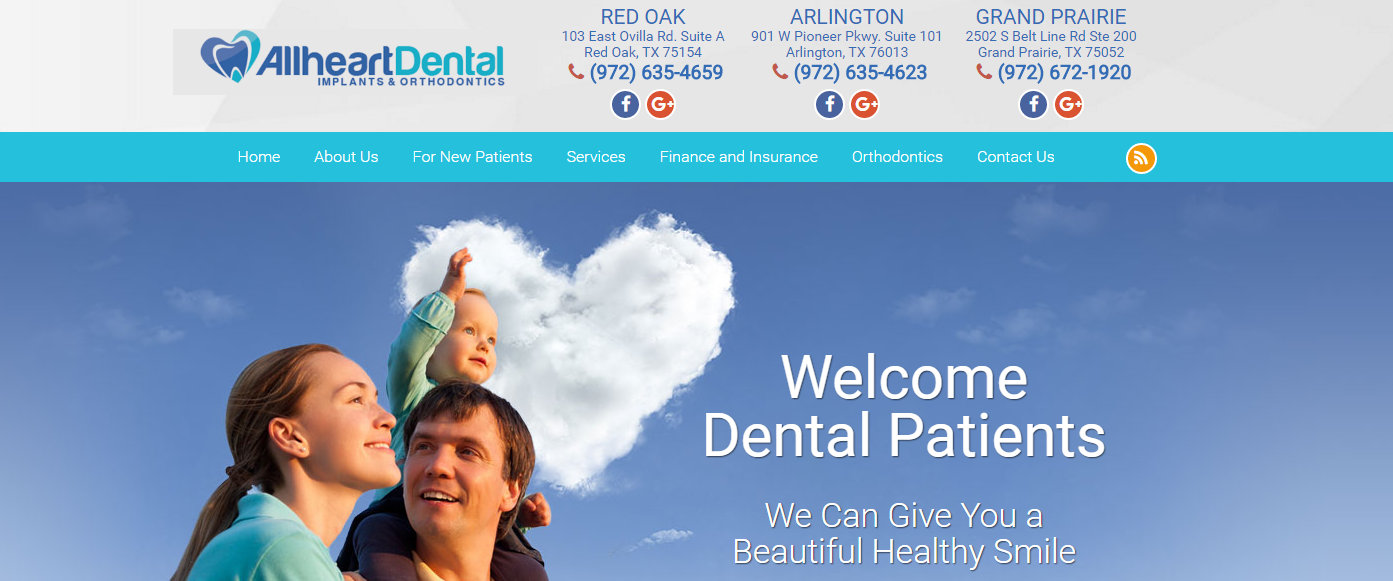 Noteworthy post: Dental emergency? Your Arlington dentist can see you today
The Texas Dental Resources blog is exactly what you would expect. It's a true collection of valuable dental care information including a handy section packed full of patient education.
The blog offers a fun approach to dental hygiene topics with articles such as Don't forget to clean your tongue and Why Is fluoride so good for our teeth? The posts include engaging pictures that encourage you to check out the articles.
Noteworthy post: Some of history's fun and bizarre dental stories
The Smilepoint Dental blog gets right down to the nitty-gritty by answering oral hygiene questions that everyone wants to ask:
Their blog delivers important information with a variety of topics that pertain to every member of the family.
Noteworthy post: 12 reasons to see your dentist part 1
The Texas Wisdom Teeth Dental Implants office specializes in, well, exactly what their name says: wisdom teeth and dental implants. Their blog is designed to educate patients about procedures related to these topics. It includes a variety of informative pages such as:
Noteworthy post: Are dental implants covered by insurance?
As part of a beautifully designed website, the Dr. William K. Baxley homepage greets you with a pleasant slideshow right at front and center.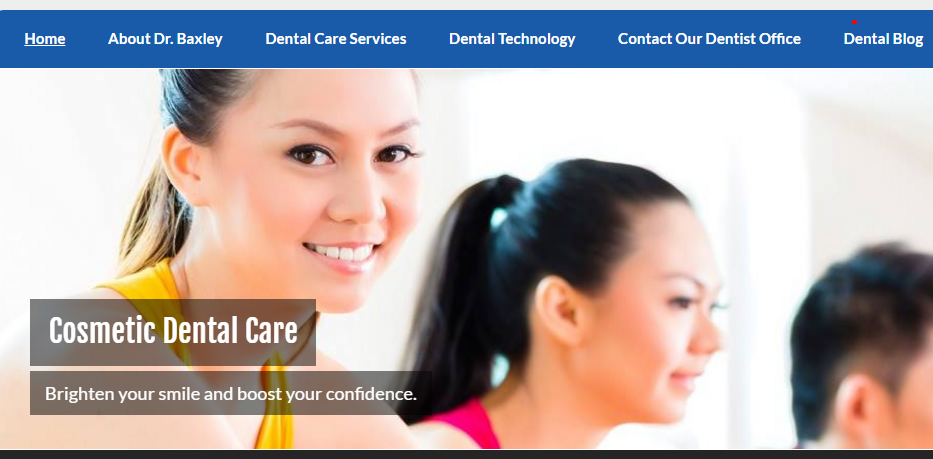 Move on over to their blog where they shed light on some important and less-talked-about issues in dental care such as:
Other topics of interest on the blog include articles promoting proper dental hygiene and care.
Noteworthy post: How to treat bleeding gums
When you visit the Hedgecock Dental blog, you'll notice that their content covers a wide range of topics. A surprise factor that made their website stand out to me was the incorporation of some unusual and incredible dental stories from around the world such as:
Unique to their content (and an element that brought a smile to my face) is the use of patient success stories on their blog.
Noteworthy post: Jamie: A six month smiles success story
Gentle Dental Care's pleasant website design with soft blue hues and an inviting design will make you smile. The value offering of this dental group is to provide gentle care to their patients, and they have done a nice of job of designing their website to help convey this aspect of care. Content on the blog promotes their selling point of being gentle providers and offers information about specific procedures. They also make use of their blog platform to promote their services such as:
Noteworthy post: Gentle dentist in Tyler, TX, does same day appointments
Their slogan is, "Better Health Through Fine Dentistry." This company takes pride in offering the most advanced dental care to their patients while maintaining a green and clean office. Content featured on their blog builds upon this value offering with articles such as:
You can rely on this blog for your information fix; it includes a fair amount of videos that help illustrate procedures in a fun, original way. Even the music in the videos is interesting.
Noteworthy post: Real food doesn't need labels (and you need real food)
It doesn't get any more reminiscent of the Texas spirit than this. The Republic Dental website is a display of Texan culture that conjures up big smiles. There's even a lone star in the logo. Content on their blog is well-planned and delivers a wealth of information, tips and advice for dental conditions, such as:
Noteworthy post: The 4 reasons why your gums might be bleeding
The bold layout on the South Texas Dental blog website is enough to catch anyone's eye. There is something about a simplistic yet striking design that captivates, and their website accomplishes this with bold lines and contrasting colors.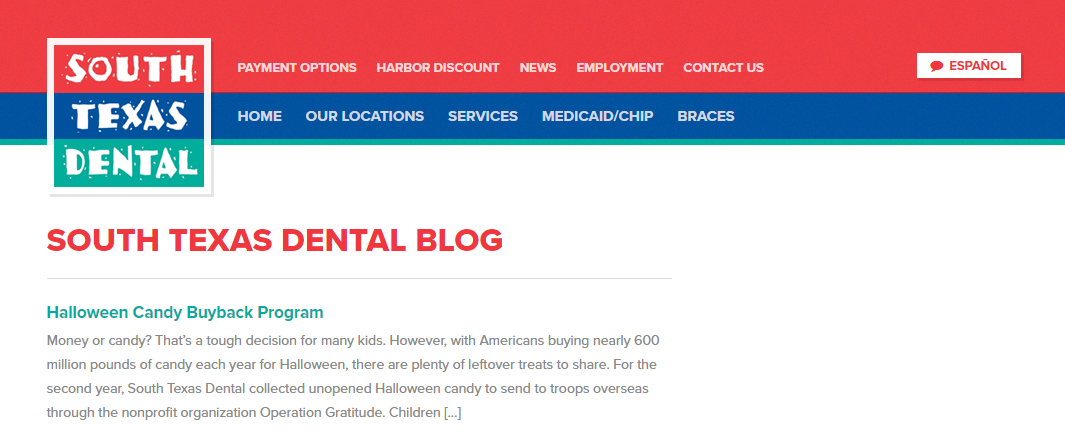 Content found on their blog focuses heavily on important health and well-being topics surrounding dental care—with a particular emphasis on children's dental tips and advice.
Noteworthy post: South Texas dental challenges children to stay active this summer
The happy, smiling tooth in the logo at the Anthony Gonzalez, DDS website brings fun to mind. The site is modern, loads fast and looks good. Content on the blog offers a technical perspective of dental procedures with topics such as how crown materials are determined by function and location. In addition to this, there are many articles that promote best practices for overall dental care.
Noteworthy post: Developing an effective oral hygiene routine
Dr. Reza Sanjar is a co-founder of Cloud Dentistry, LLC and co-owner of Dental Art in Katy, Texas. His years of experience as a dentist and dental practice owner give him unique insights that inform the practices of Cloud Dentistry. A graduate of Boston University and Washington University in St. Louis, Dr. Sanjar has been practicing dentistry since 2009. He knows the industry well and is pleased to bring the benefits of Cloud Dentistry to other dental practices and dental professionals.
---
Sign up for free
Zero upfront fees for dental offices. for specialists, dentists, hygienists, and dental assistants. Free